How not to draw a legislative district
This fall in House Legislative District 61, Kevin Suddeth is seeking to unseat Matt Pierce, who was elected to the Indiana House in 2002. Pierce defeated a Libertarian to win an open seat vacated by Bloomington Mayor Mark Kruzan, and won two landslides against his challengers (both IU students) in 2004 and 2006.
District 61 is a heavily Democratic district, picking up all of Bloomington Township, heavily Democratic areas of Perry Township and all of sparsely populated Washington Township. For the most part, it is a well drawn district, a simple rectangle. The problem comes at the southern tip of the district, where District 60 takes a chunk out of 61 with a tiny land bridge to make the district contiguous. See maps below: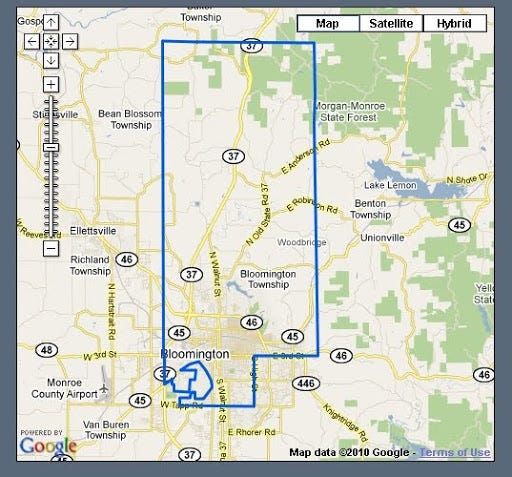 (Maps are from the district's Web site.)
This is ridiculous.
While I understand that jagged lines are often necessary to keep the population of state legislative districts as even as possible, there is a difference between necessary zigs and zags and a shameless gerrymander. This is not surprising, given that the same legislators who gave us the shamelessly gerrymandered Congressional districts and a state legislative district map that contributes to a huge number of uncontested races.
There have been proposals for reform, including establishing an independent commission to draw the maps. Ultimately, though, the solution will be to terminate the employment of legislators who short circuit the electoral process by drawing maps that make election results a foregone conclusion. Even in the worst of gerrymandered districts, voters can do that in November - something that is especially important because no reform will be implemented in time to affect the next redrawing of Congressional and state legislative district maps.
Furthermore, Republicans should make redistricting a major issue in this year's elections, and pledge to draw legislative districts that make sense for voters rather than for the re-election campaigns of incumbents. To steal a phrase from President Obama, redistricting reform is change we can believe in.